Man's main task in life is to give birth to himself, to become what he potentially is. The most important product of his effort is his own personality.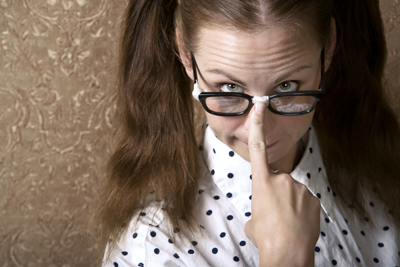 ~Erich Fromm
You're a remarkable fellow, or an outstandingly brilliant lady. God has bestowed upon you incredible talent, superior intelligence, and fairness of face beyond compare. So what's wrong? Why are you not succeeding the way you were clearly meant to?
Let's hazard a guess. Do you suppose that despite your stellar qualities, people just don't like you?
Believe it or not, many a great product or service has been rejected just because the intended recipient of a fabulous deal has been put off by the person pitching it. Let's talk about a few personality traits and other characteristics that are guaranteed to kill the deal, and what you can do to overcome them.
You're Weird
There, we said it. You're a strange little article, aren't you? You with your polka-dot bow tie and your pocket protectors, your collection of used chewing gum that looks like Jesus, your tendency to channel Yoda from Star Wars when you're talking to people. Strange you are! Stop it you must!
Whether you like it or not, people aren't going to look past your eccentricities and say "Well, she's a bit off, but this deal is too good to pass up." No, they're going to run as fast as they can for the nearest exit. You'll be much better off if you just try to fit in.
You are Self-Important
Every sentence out of your mouth starts with "I". Your opinion is the only one that counts because it's the only one that's RIGHT. You could fix up all the country's problems if politicians just had the good sense to ask your advice. If you and a hundred other people showed up at the same party, attendees would say in unison, "Oh no, here comes Bob." If any of this sounds familiar, guess what? You're a jerk. Now you know. Put your ego away for a rainy day and accept that it's not all about you.
You're a Kiss-up
Kissing up is what you do best. You agree with everyone. If Danny says he fancies toast with Marmite, there you are, stuffing it in your face. Then Sophie announces that she can't abide Marmite, and you toss the toast in the rubbish bin. There's no one on the face of the planet you admire more than the person you're with right now, and you're not above telling him or her, in excruciating detail, just why you so adore them. Oh, please, give it a rest. You're phony as plastic shrubbery, and everyone knows it. Stop trying to please everyone – it makes you look like Bob the Jerk.
Your Manners are Terrible
There you are, at a business dinner, a) slurping spaghetti, b) eating with your mouth open, c) using your napkin to blow your nose, d) interrupting your fellow diners when they try to speak, e) peppering your conversation with colourful obscenities, or f) all of the above. Are you working hard to be offensive, or does it just come naturally? Clearly, you don't know how to behave in public. Buy a book on etiquette. Read it. Practice what you've read.
It's Never Your Fault
You think you might have made a mistake once, but you're pretty sure it was someone else's fault. When something goes wrong, you blame your subordinates, your peers, your immediate supervisor, your mother – whoever's handy. Worse, you have no qualms about doing it in front of a client. Here's a news flash for you – that client sees through your pathetic attempt to shift responsibility, and may very well put the brakes on the deal. When that happens, guess who's to blame? You. No one else.
If You Think No One's Judging You, You're Wrong
If you recognise yourself in any of the above, that's half the battle. Now you need to understand that, whether you like it or not, people are shallow. Many of them won't look beyond your irritating characteristics and personality traits, and it could cost you the deal.
The Final Word
Now that you know some of the ways you may be sabotaging yourself, work to correct them. You'll benefit in the long run.